With focus on Food System Reform, Nutrient Security and Water Utilization, Aaron Niederhelman was selected a 2015 Eisenhower Fellow. Further details on Aaron Niederhelman's program in Europe and the Middle East can be found: http://www.atwhatcost.us/

synopsis:
Broader investments in resilient agriculture positioned in a well-supported innovation & circular economy affords domestic US production a pragmatic future of paying for human & environmental healthcare through the food we eat.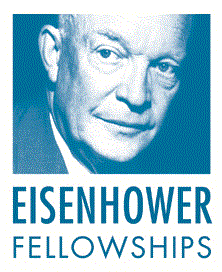 Eisenhower Fellowships is a private, non-profit, non-partisan organization created in 1953 by a group of prominent American citizens to honor President Dwight D. Eisenhower for his contribution to humanity as a soldier, statesman, and world leader. Chaired by Colin Powell, the Fellowship programs select 8-10 US citizens and 20 International Fellows for in-depth research with unparalleled access.
The organization engages mid-career (age 32-45) influencers from around the world to enhance their leadership skills, broaden their network of contacts, deepen their global perspectives, and unite them in a diverse, global community where dialogue, understanding and collaboration lead to a more prosperous, just and peaceful world.